This post contains references to products from one or more of our advertisers. We may receive compensation when you click on links to those products. For an explanation of our Advertising Policy please visit this page.
Good afternoon,
I know it has been awhile since my last update. As usual, life has been busy. We have had two birthdays in March. I now have a ten and eight-year-old! I cannot believe how fast they grow up. My March babies have come so far in their reading. They amaze me every day.
Today, however, I will be telling you all about how my 5-year-old son is doing with his reading. If you have not seen the post about the unboxing of the All About Reading program, check it out here before moving on. We have started with level 1 because I have not used an official curriculum or program with him before.
Before starting the All About Reading program, I used Progressive Phonics stories and taught letter sounds with games. We have always used a variety of things online. Of course, lots of reading together as well. It is important for you to know that I have worked with him prior to AAR, but not consistently.
Some things you should know.
On average, we finish 3 lessons a week, sometimes more. I like to have him practice in between, and let me be real here, I don't always have time to sit and work on lessons with him. That is just how it is right now.
We have just wrapped up lesson 13. Up until this point, it has finally gotten a bit challenging for him. Although, not really so much. He does so well sounding out the words when he doesn't remember. I am honestly so surprised at how easy it is for him to catch on to new words and sounds.
Now for the review.
I will start with the Teacher's Manual. I think it is important to know what the curriculum consists of and how it can help you. At first, I didn't think I would really need this. Once I began, I realized that of course, I did need it and how it made it so much easier!
The manual gives you a condensed list of what you will be using and what the child will be learning in each lesson. For example, In this lesson, students will read a short story and practice reading sentences with periods and exclamation points. It also states what you will need from the student pages, word cards and what story you will be reading.
It is broken down into sections, like, Before You Begin, Review, New Teaching, Activities, Read-Aloud-Time and tracking your progress. This really saves me on time and helps me stay organized. It is all done for me and that fits perfectly into our busy lives.
The Student Workbook has all activities for each lesson ready and easy to tear out when needed. So far we have played bingo and made little word books for extra practice. He really enjoys cutting and pasting activities.
The Readers are books full of simple, short and 100% decodable stories, that will encourage fun reading. Each story has fun illustrations. Although they are not colored, they are still pleasing to the eyes. Pictures are important to youngsters! I have included a video of my son reading from one below.
The Letter Tiles of consonants and vowels help with hands-on and a visual approach to learning sounds and sounding out new words.
The Review Cards are in the box shown in the picture above and below. These are basically flashcards for practice. In the box are dividers that help organize what needs to be reviewed again or what has been mastered.
How AAR is working for my son.
In the beginning, AAR level 1 seemed to be far too easy for him. I was a little worried I may have chosen the wrong level. However, if I chose the next level, it may have been a little advanced. Although it was a really easy the first 10 lessons, he is having to work hard to remember certain words. Overall, I would say it is working well and presently it is great practice. It is also very reassuring to me that he is on the right path.
What we liked most.
What my son seems to really like the most are the activities. He loves hands-on learning. Sitting and listening too long makes him bored. So, I really try to do the reviewing of previous words quickly or spread them out throughout the week. One specific activity he said he enjoyed was the "Is it dangerous" activity in lesson 13.
What I like most about AAR, are the Readers. I love that I can rely on these books that will help my child learn to read with confidence, instead of an application or online program. As much as apps and games are helpful, a good phonics reader is important.
What we didn't like.
There is nothing we don't like! I asked my little guy personally, "What don't you like about your reading lessons?". His response, "Nothing.", while shaking his head with enthusiasm!
How I have adapted it to his learning.
First, something I haven't mentioned is the letter tiles. The set consists of consonants, vowels and vowel blends. Each tile comes with a tiny magnet so you can use them on your whiteboard. This allows for a visual and hands-on approach. We haven't had to use them too often. I break them out when we get to more challenging words.
So, I guess that is one way I have adapted this program to his learning. I can use or not use certain things that are not needed. On days we don't do a new lesson, he reads the stories from the readers for practice.
My thoughts overall.
I am beyond grateful to have this program for my son. It has been such a lifesaver. It has saved me time and allowed me to see what my son needs help with. It has helped me keep my son busy, which he loves. It has built his confidence in his reading and we are able to use it at our own pace. No need to rush him through lessons!
I highly recommend All About Reading!
Want to see what AAR looks like up close? Take a look at my video below.
I hope that I have covered enough for you. What do you think? Would this program be a good fit for your little ones?
If you have any questions, feel free to ask me in the comments or contact me directly at whatshappeningwithjessica@gmail.com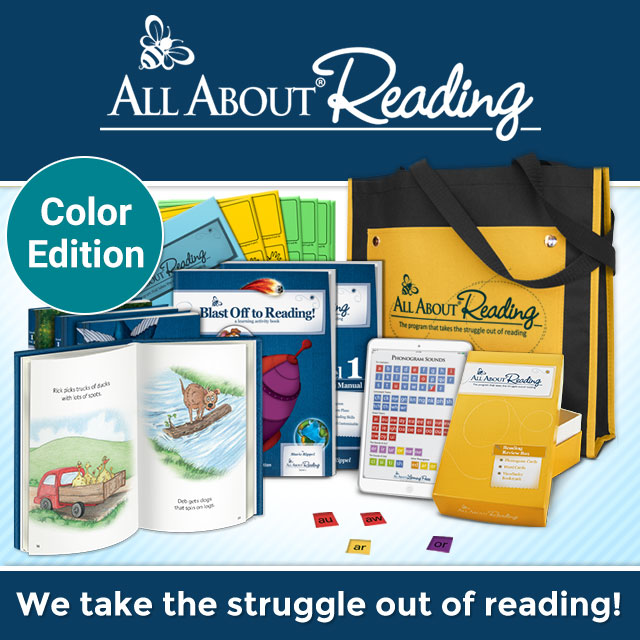 I GET COMMISSIONS FOR PURCHASES MADE THROUGH LINKS IN THIS POST. THIS IS TO HELP SUPPORT MY BLOG AND DOES NOT HAVE ANY IMPACT ON MY RECOMMENDATIONS.